Aspire / Pen Fed Credit Union Information

as of June 1st, 2021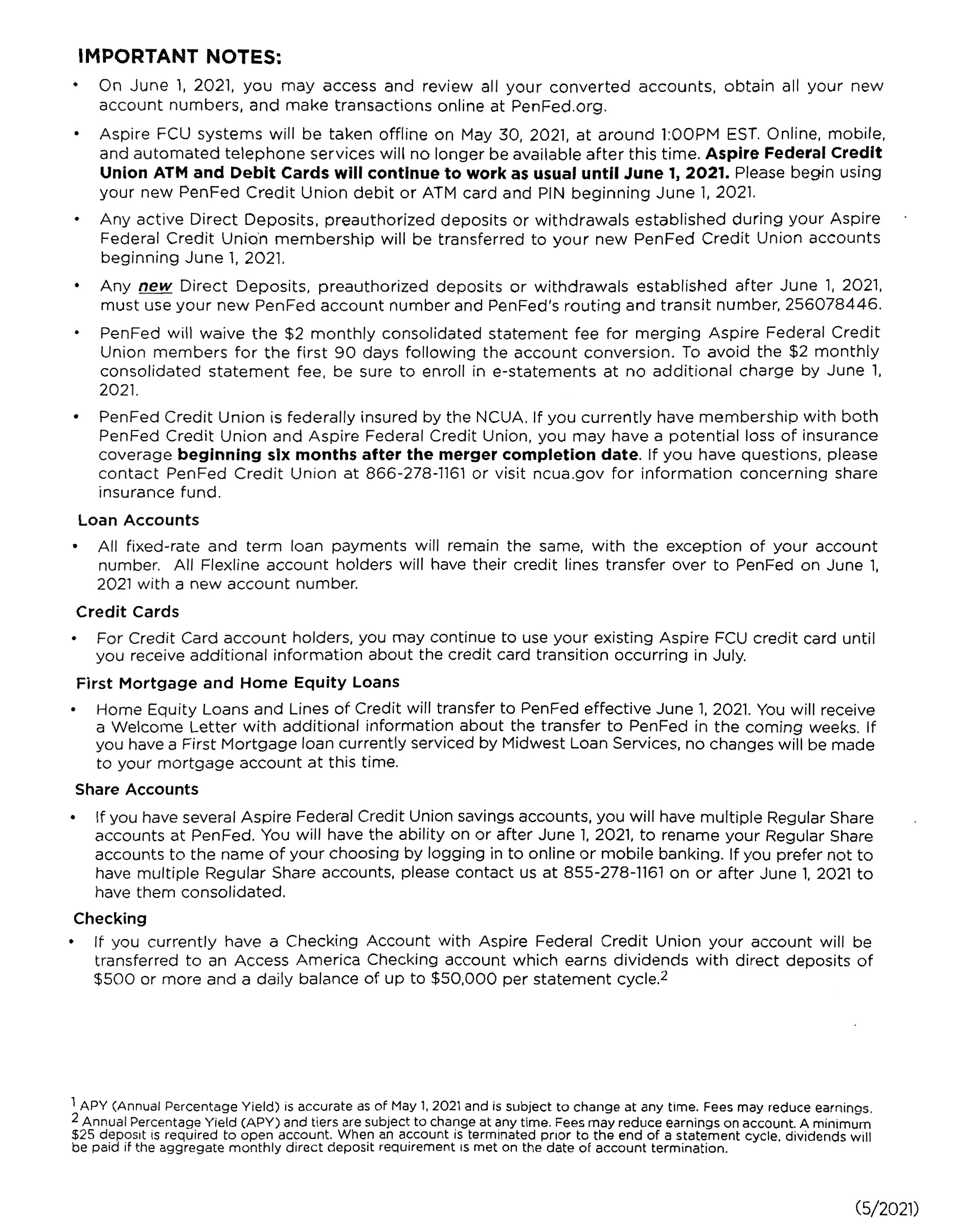 Save Today, for a Brighter Tomorrow
THE SAVINGS YOU NEED
When You Need Them Most
During these difficult times, Aspire is committed to helping our members save. That's why we're giving you the opportunity to refinance your auto loan from another lender and receive 1% CASH BACK (UP TO $250).*
Features include:
• Rates as low as 3.99% APR* for auto refinances
• Up to 100% financing
• Flexible terms
• Discounts on insurance and protection products
• Option to skip up to four loan payments per year – ask us for details!
• Personalized service from an experienced loan consultant
We hope this special offer (valid through November 30, 2020) will help you regain a sense of financial security so you can stress less in the days to come.
Remember to use promo code "Auto" when you apply!
aspirefcu.org | 732.388.0477 option 2
SAVE TIME ON YOUR REFI!
Before submitting an application (using promo code "Auto"), complete the form at the website below to help us determine if we can refinance your vehicle: ASPIRE2SAVE.COM
Skip a Payment?
Do you have a loan with Aspire?
Does your other financial institution allow you to skip payments on loans?
With a qualifying auto or personal loan from Aspire, you can skip your payment online in a matter of seconds! And you get to choose which months you wish to skip! Ask a representative for more information.
Home Loans
We've recently partnered with Land Home to offer Aspire members:
Mortgages

Refinance Options

Reverse Mortgages
Click here for more information.
Earn Rewards on all your purchases!
Score major savings with a 0% introductory APR* on balance transfers for 6 months. After the introductory period, rates start at 12.15% APR.**
With our World Rewards Credit Card, you can earn 25,000 bonus points equivalent to $250 in cash when you spend or transfer a total of $5,000 in the first three months!
Want even more perks in your pocket? Our Aspire FCU Mastercard also comes with:
No Annual Fee

Generous credit limits

1.25 points for every dollar spent
Existing members can apply through My CU Online. Non-members must apply for membership first. Call 732.388.0477 for more information.
*APR = Annual Percentage Rate. After the introductory period, APR will depend on individual creditworthiness **Your standard APR may vary and is based on Prime Rate. Your rate is determined by adding a margin to the Prime Rate. The Prime Rate Index used to determine your APR is the rate published in The Wall Street Journal monthly and changes are effective as of the first day of your next billing cycle. (See cardholder agreement for complete details.) Transfers from existing Aspire FCU credit card or loan balances are not permitted.
There are more reasons than ever to love being a member of Aspire Federal Credit Union.
Your credit union membership is about the trust and care of community, built around where you live, work and play. That's why Aspire Federal Credit Union membership saves you money through exclusive member-only offers through our trusted partners. Through Love My Credit Union Rewards, credit union members have saved over $2 billion with offers like:
» Credit union membership also saves you up to $15 on TurboTax federal products.
» Credit union members save on SimpliSafe, the #1 expert pick for home security.
» Protecting your car and home shouldn't cost an arm and a leg. Aspire Federal Credit Union members can save big with an exclusive discount from the TruStage Home & Auto Insurance Program.
Learn all about how your Aspire Federal Credit Union membership gets you all these exclusive savings, and more at Aspire Federal Credit Union or Rewards.LoveMyCreditUnion.org. Check them out and start enjoying credit union member benefits you never knew you had.
Aspire FCU, 67 Walnut Avenue, Suite 401, Clark, NJ 07066
Page Last Updated: Jan 28, 2021 (10:53:00)